You like to celebrate your own birthday, right? So why not pull out the cake and candles for your pet's birthday. After all, your cat or dog is your best friend!
They say one human year is equal to seven dog years, which makes your barking buddy's birthday all that more important to celebrate! Of course, your pooch might not realise why everyone is making such a fuss over them, but they will no doubt enjoy all the extra attention.
Indeed, some owners might not know the exact date to celebrate their pet's birthday. That's okay. You can simply celebrate the date you brought your fur baby into your home.
Otherwise, if you are lucky enough to know the exact date of your pet's birthday make it a day to remember. Here are a few ideas on how to celebrate your pet's birthday.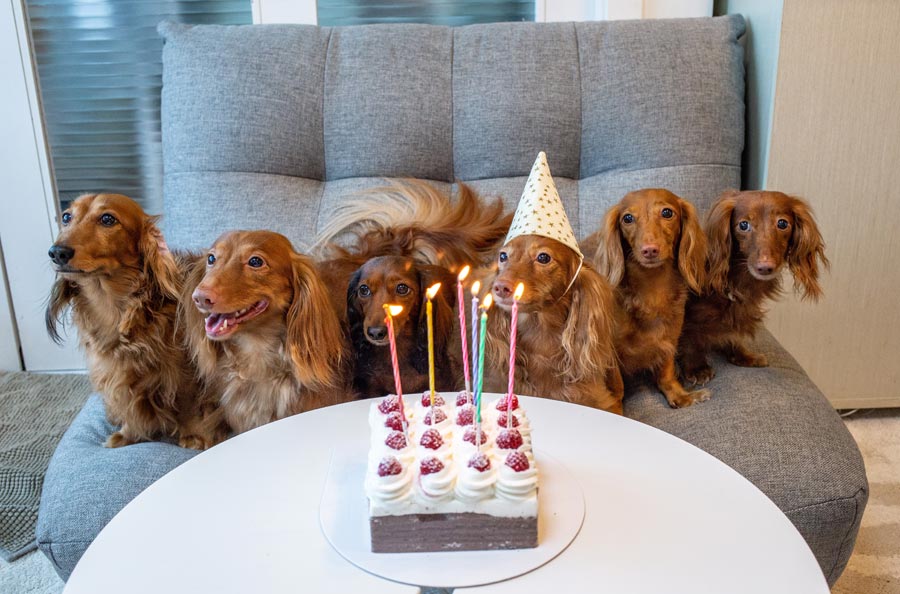 Image source: Glenn Han on Unsplash
Celebrating your dog's birthday
So, how are you going to celebrate your dog's birthday? Something small? A family-only affair? Or maybe a fabulous event where your dog's pals can come and celebrate too?
Perhaps your dog is particularly fond of an off-leash dog park. If so, you could organise a picnic lunch for your dog-owner friends and invite them and their pups to play.
Australia is full of off-leash parks ideal for a puppy party. Plus, an outside venue is ideal for your pet's birthday—given it's so much easier to clean up after accidents; There are bound to be a few!
Once you've decided on the venue, why not plan some doggie party games? Treasure Hunt is a great game to play with fur pals. Simply hide a treat or a toy around the park, and the dog that finds it first wins!
There's also Bobbing for Treats. Fill a kids pool with water and then drop treats into it, and be sure to count so you know how many are in there, then set your clock for 60 seconds and see which pup eats the most treats. Make sure to use healthy dog treats (such as carrot and apple) cut up into bite-size pieces.
Image source: Christina Hernández on Unsplash
You could also invite your human guests to take part in a Talent Show with their dog. Each owner and dog can perform one trick for everyone else. Since dogs will eat whatever treat they are offered, it may be a useful idea to have points allocated to the winner of each game instead of a food reward. Then at the end of the party, add up the points to see who goes home with a yummy prize!
Did someone say cake?
There are plenty of easy doggie birthday cake recipes on the internet. Here's a recipe for a Mini Berry-Almond Cake and a Coconut and Honey Doggy Cake.
Alternatively, have someone else make a cake for you. Check out Pupcake Bakery and Woof Gateax.
You see! Celebrating your pet's birthday can be fun for everyone. Plus, you and your fur baby are likely to get a great night's sleep.
Image source: Christina Hernández on Unsplash
Celebrating your cat's birthday
Want to pull out all the stops to make sure your cat's special day is just purrfect? Here are a few ideas to make your pet's birthday a day to remember.
Birthdays are about eating lots of yummy things and there's no reason your kitty cat should miss out. If your cat has any favourite treats or foods use them to make a single serve cake for your pet!
Indeed, cats are creatures of variety and giving them some options will make them feel very special! If you don't want to make something yourself, there's a number of pet-friendly bakeries that will be happy to do it for you.
Without a doubt, when it comes to your pet's birthday it's all about good vibes! Tailor your birthday celebrations to your cat's personality.
For example, if your cat is a bit of a loner all you really need is their favourite things in their favourite room —plus lots of cuddles and scratches; no party necessary.
Image source: Paul Hanaoka on Unsplash
However, if your cat is a social butterfly their ideal birthday may include cats and humans they're friendly with, as well as any other pets you own that they get along with. Be sure to include lots of hide-y holes, soft furnishings and toys to keep them occupied. Decorate with cat-themed party supplies, streamers and 'Happy Birthday' signage; your cat may not be able to read but you'll enjoy it.
There's no such thing as a great party without presents! Depending how playful your cat is, and how much they like playing with paper in particular, choose to wrap your gift or not. If your cat enjoys catnip this could be a perfect gift and something to help make their birthday even more enjoyable.
Aside from this they might like a toy mouse to play with a new scratch tree or a fancy new bed. You gift doesn't have to be expensive and, if you're short on cash, just shower them with cuddles.
But if your pet is not such a social butterfly you can just invest in a special personalised gift to celebrate that special day – anything from a Swarovski crystal PetIDtag, to a photo shoot to commemorate your pet, or even a neon sign with your pet's name in lights!  Check out some ideas here from Spliff!
How do you celebrate your pet's birthday?
The following two tabs change content below.
Leanne Philpott
Leanne is a freelance writer at contentchameleon.com.au. She works alongside her fur pal Chewie (a border terrier) and is passionate about promoting responsible pet ownership.
Latest posts by Leanne Philpott (see all)