From constant meowing and scratching to settling into a feeding routine, raising a fur baby can leave you feeling like you've got a newborn in your house.
CEO of Cat Protection Society NSW Kristina Vesk says, "It is no secret that Aussies are beginning to see their feline family members as real babies. Although raising them isn't easy, it's also very rewarding. With a few hints and tips, getting through the kitten stage can be a whole lot easier and more enjoyable."
To help conquer the madness of life with a new kitten in your home, Kristina is sharing her top tips for raising a furry friend.
How to navigate life with a new kitten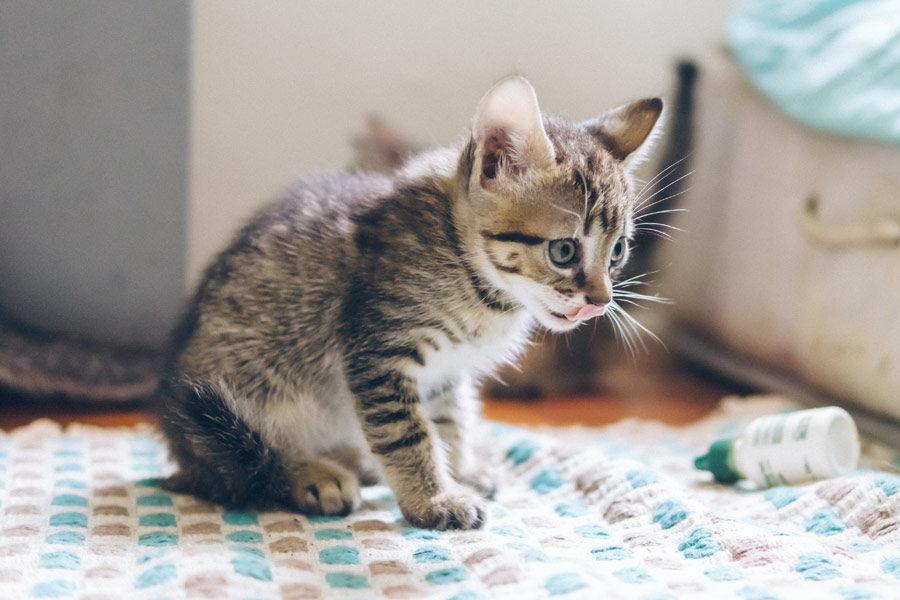 Image source: Danilo Batista on Unsplash
Establish routines
It may sound simple but many pet parents fail to establish set routines, which can make it harder for new kittens to settle into its surroundings.
Kristina advises, "New kittens need to learn and follow your routines. Regular times for meals, play sessions and bed are vital if you value your sleep!
"Keeping routines will give your cat confidence and make them feel secure, ensuring good habits for life. For active kittens, a strategy to help them keep to your sleep timetable is to have some playtime with them about half an hour before you go to bed and leave a food puzzle (like a treat ball with biscuits) that they can play with overnight. Don't give in to a 3am snack or game request unless you want to be woken at 3am every morning!"
Set in place a curfew
According to Kristina, curfews aren't just for rebellious teenagers — they work for cats too!
"Ideally cats should be kept indoors-only or safely confined to your own property (such as with cat-proof fencing) but if you do let them out, they should always be indoors from dusk until after dawn (this is when most native wildlife is active).
"Cats (and particularly naïve new kittens) are most at risk during the night from cars, other cats and predatory animals, so implementing a lock-in time will help ease your mind and keep them safe.
"Curfews are also great for those pet parents who work all day, as it gives you and your cat time to bond. Even if you plan limited outdoor access, for their safety your new kitten should be kept strictly indoors for the first six months."
Image source: Zoë Gayah Jonker on Unsplash
Take your cat on regular walks
Don't be fooled into thinking "walkies" is just for dogs! Depending on the personality of your beloved cat, they might want to explore what is beyond the four walls of their house.
However, Kristina warns, "Despite popular belief, don't let your cat roam the streets alone. Instead, purchase a harness and take your cat for a walk. Walking can have positive effects for your cat as they will use their brain differently and think even more about their surroundings.
"But remember, this is not an activity for every cat. All cats, however, love to play and should have toys and climbing perches. Playtime is also an excellent time to bond with your cat."
Register your cat
Certainly, registering your new kitten is part and parcel of being a responsible pet owner.
Kristina says, "Registering your cat may not seem fun or exciting, but it is the smart thing to do if you are new cat owner. Filling out the NSW Pet Registry form will allow you to update details online and link your new family member to their microchip. This will give you peace of mind if your cat escapes and wanders off!"
NOTE: to find out where to register your cat in the state in which you live, contact your local council.
Image source: The Lucky Neko on Unsplash
Desex your new kitten
"Desexing should be at the top of everyone's list as no pet owner wants to find out their fur baby is having an unwanted litter of kittens," says Kristina.
"Indeed, contrary to popular belief, kittens can become pregnant with their own litter — which is why you should desex your new furry family member as soon as possible.
"Cats can be desexed from as young as eight weeks and this will prevent unwanted kittens, as well as numerous diseases. This is the time to find a vet for your new cat who will also advise on vaccinations and lifelong care."
Train your cat to be a good citizen
"Training your new kitten to be a nice feline may seem silly, yet teaching cats boundaries and guidelines from a young age is very important.
"This doesn't mean you will be teaching a cat to sit or roll over; it means your cat will learn good habits such as not jumping on your kitchen bench or scratching expensive furniture. Don't forget to use positive reinforcement when training your kitten," advises Kristina.
Having a new kitten in the family can be a lot of fun, but it's important to remember that as a pet owner you have a responsibility to your cat, the local community and the environment. By taking the above tips into consideration you are supporting your cat and minimizing the impact of cat ownership on the local community and wildlife.
The following two tabs change content below.
Leanne Philpott
Leanne is a freelance writer at contentchameleon.com.au. She works alongside her fur pal Chewie (a border terrier) and is passionate about promoting responsible pet ownership.
Latest posts by Leanne Philpott (see all)