It's expected that COVID-related travel restrictions will remain in place for some time into the future. As such, it's likely that more people will choose to explore their own states, which makes camping a prime possibility.
This is great news for dog owners, as camping with your dog can be a heap of fun and adventure. In fact, there are many reasons to go camping with your dog (and your family!).
5 reasons to go camping with your dog
So, you've decided your next holiday is going to be a camping trip and that's great because your four-legged pal can come to. Yet, apart from having your fur pal by your side, there are many great reasons to make a point of camping with your dog; here are a few of them.
1. Explore unlikely places
A change of scenery and fresh air are great for both you and your fur baby. However, camping with your dog can limit the number of parks and places you can lay your tent. After all, not all campsites are dog friendly (unfortunately!).
This isn't necessarily a negative though; camping with your dog encourages you to consider campgrounds and places you might have dismissed if it weren't for Fido.
You never know, you might just find a gem of a campsite that you'll want to return to time and time again — with or without your dog.
2. Go on hiking adventures
Dogs love being out and about in the wild. Their senses go into overdrive and you can see the joy on their furry little faces. For a dog, there is nothing better than being outdoors with their owner by their side.
Of course, you can't expect your dog to sit next to the tent all day long, which means hiking adventures are high on the agenda. Whether you're big into hiking or not, camping with your dog will push you to explore further afield and, when you see the joy on your fur pal's face, you'll want to stay out all day.
3. Be super organised
Aside from the 'human' camping essentials (don't forget the tent!), you'll need to make sure you pack a few all-important things for your four-legged pal too.
This means being super organised. Don't just focus on what your fur pal will need once you're at the camping ground; make sure you have what he or she needs for the journey too. For example, you might need a dog car harness or travel cage, water for the drive, bedding and perhaps some cleaning items (in case of accidents!).
For more on this, check out our post on how to travel with your dog.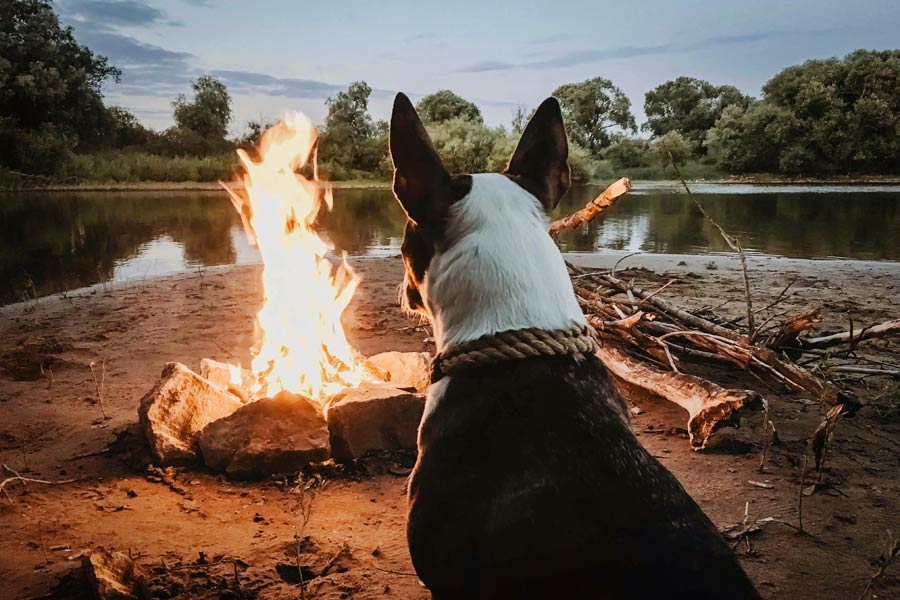 4. Motivation to get going
Camping with your dog is the best motivation. All those new sights, sounds and smells will drive them crazy with excitement, which is likely to rub off on you too. Fido will give you the kick you need to go on that super long walk, to drive to the dog beach or sit by the lake (while Fido no doubt goes for a swim!).
5. Have the BEST bonding experience
Camping with your dog can be a truly rewarding bonding experience. Assuming your dog is in good health and has the right temperament for camping, camping can be one big adventure.
(NOTE: Don't be fooled into thinking ALL dogs will love camping, some don't!)
Dogs love nothing more than hanging out with their owners. Camping provides the ideal opportunity to bond with your beloved pet, as you're sure to spend a great deal of time with one another. You'll be exercising together, exploring the wilderness together and you might even sleep in the same tent!
The fact is, even if the weather is dismal and things go wrong — camping with your dog and family makes for a memorable experience no matter what.
What is your experience of camping with your dog?
---
If you enjoyed reading this post, why not take a look at these related articles:
Image source: Unsplash
The following two tabs change content below.
Leanne Philpott
Leanne is a freelance writer at contentchameleon.com.au. She works alongside her fur pal Chewie (a border terrier) and is passionate about promoting responsible pet ownership.
Latest posts by Leanne Philpott (see all)