From pet-proofing the Christmas tree and taking extra care with the festive lights to keeping the Chrissy chocolates out of reach of mischievous animals — here are a few pet safety tips to help keep your fur baby safe this holiday season.
'Tis the season to be merry but don't forget to be mindful of your furry friend this festive season. After all, some of the Christmas festivities and traditions we humans love might be frightening or dangerous for our dog or cat.
Christmas pet safety tips
Festive season failures and Christmas calamities can result in bad tummies, injury, scarily high veterinary bills and even tragedy. Keep your feline friend and canine companion safe this Christmas with these simple pet safety tips.
Image source: Jasmin Schuler on Unsplash
Avoid a Christmas tree catastrophe
Pet proofing the Christmas tree can help prevent your festive season from being ruined, but it can also help prevent a costly trip to the vet.
We've all heard horror stories of over-excited animals tumbling into the meticulously decorated Christmas tree and causing it to topple over, right? Of course, this usually happens smack-bang in the middle of the festive feast!
So, safeguarding the tree must come top of the list when we're talking festive-season pet safety tips.
If you can't set the tree up in a room that can be closed off from pets, place it in a corner of a room. This will help reduce the likelihood of it being knocked over.
Certainly, twinkling lights, tinsel, brightly-coloured baubles and other hanging decorations make for an awesome Christmas tree — but they can also look attractive to playful kittens and naughty pups.
The last thing you need to deal with on Christmas morning is your cat choking on tinsel, so keep the tree decorations up high and maintain a close eye of your fur friend.
While real Christmas trees don't pose a direct threat to pets, pine needles and sap can be a cause for concern. Should your pet run into the tree (it happens!), the sharp pine needles could damage your fur baby's eyes. For example, they have the potential to cause a corneal laceration. Ouch!
Likewise, sap may appear harmless but if your pet ingests it there's the risk of tummy upset — so keep an eye on your pets this Christmas.
Prevent a festive feast disaster
We pet parents love to give our fur babies a little treat and what better excuse than the fact it's Christmas. Indeed, those puppy dog eyes make it hard to say no, but remember there are certain foods that pets should avoid.
For example, cooked bones, chocolate, onions, garlic and macadamia nuts can be toxic to dogs and cats. Aside from not serving up these foods to your pets, be sure to not leave food lying around.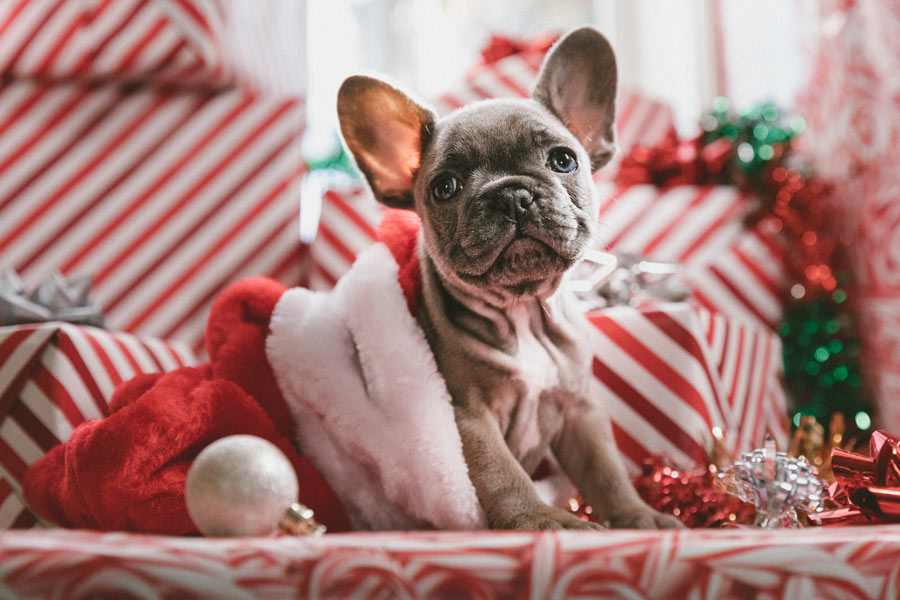 Image source: Jakob Owens on Unsplash
Gifts that aren't good for pets
Christmas stockings are designed to hang on your fireplace and that really is the safest place for them. You don't want to wake up on Christmas morning to find Fido has eaten half the presents.
When it comes to festive pet safety, wrapping paper, cellotape, gift tags and little toys need to be kept out of reach of our fur friends. There's no fun to be had on Christmas day if you discover your dog's eaten a roll of cellotape!
It also pays to be careful when picking festive season flowers and plants to give as gifts. There are many plants and blooms that can pose a hazard to dogs and cats. Common culprits include poinsettia, mistletoe, holly and lilies. These can cause severe gastrointestinal upset.
If you're looking for a gift that is suitable for your dog or cat, check out these 12 gift ideas your pet will love.
Not all pets are party animals
Christmas parties and large family get-togethers are fun for us humans, but they can be scary and overwhelming for our four-legged friends.
Ensure you have a safe, quiet and secure space in your home where your furry friend can hide out when things are getting a bit loud or wild.
Sniffing out new people and experiencing a whole bunch of mouth-watering foodie smells can overstimulate your pet's senses. Taking them for regular walks, particularly before guests arrive, can help to keep them calm so you can carry on and enjoy yourself.
Image source: Adriana Puente on Unsplash
When it comes to Christmas pet safety tips, responsibility comes top of the list. This means keeping a watchful eye on Kitty and Fido, but also planning ahead. Think about the events taking place and what impact they might have on your pet and plan accordingly. It may be wise to arrange for your pet to have a sleepover at a friend's house.
As pet parents, it is our job to take good care of the health and wellbeing of our beloved fur babies.
Wishing you and your fur pal a happy and safe festive season!
The following two tabs change content below.
Leanne Philpott
Leanne is a freelance writer at contentchameleon.com.au. She works alongside her fur pal Chewie (a border terrier) and is passionate about promoting responsible pet ownership.
Latest posts by Leanne Philpott (see all)