Including your pet in your wedding day is a great way to show them just how much they mean to you. Plus it'll surely lead to some adorable photos!
Indeed, research released by Pawshake shows that more and more pet owners are incorporating their beloved pets in their all-important wedding day.
Certainly, no 'special day' is complete without your four-legged friend, right? After all, who says your fur friend won't make a great flower girl or boy? Who better to carry the ring than your trusty terrier? What better way to spend your wedding day than with your barking bestie?
According to Pawshake, more than 50% of brides and grooms-to-be factor their pets into their wedding day plans. Almost a quarter are even giving their pet the coveted role of ring bearer, maid of honour or best man, So, if you're considering including your pet in your wedding day prep, you're certainly not alone.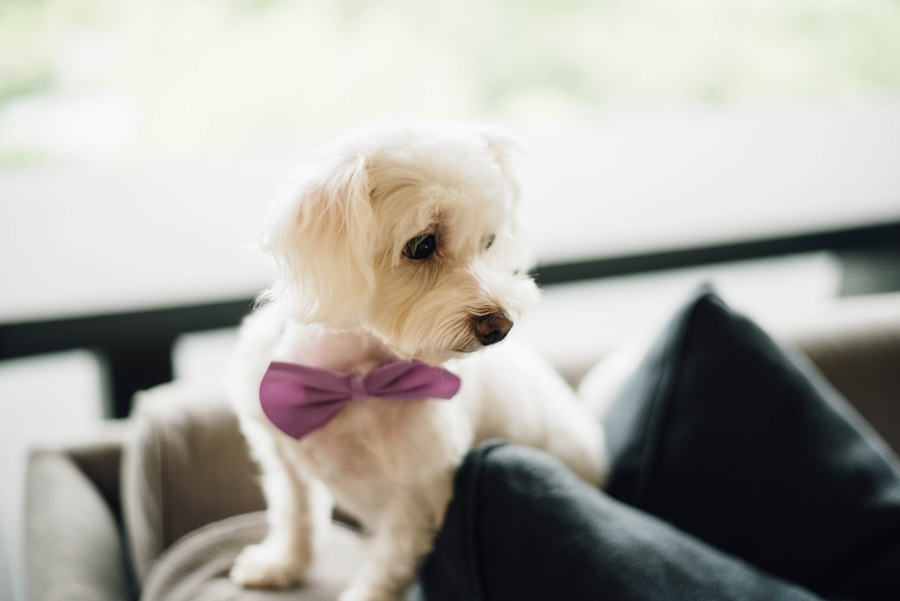 Image source: chuttersnap on Unsplash
Avoiding wedding day mishaps
Making your pet a part of one of the most memorable days of your life needs a little thought. Sarah Gaul, Pawshake community manager advises that once you've confirmed that your chosen venue is pet-friendly, start making plans to ensure there are minimal pet-related catastrophes on the day.
She says, "It's overwhelming when you and your partner are being pulled in a hundred different directions, posing for photos with all of your guests and making sure that your day runs smoothly. With the right people, you can turn man's best friend into your best man on your wedding day."
Keen to include your pet in your wedding day? Here are four factors to think about to help avoid disaster.
1. Consider your pet's temperament around big groups of people
It's usual for a pet to act out of character when they are overexcited or extremely tired. Consider hiring a pet sitter to help ensure your pet isn't overwhelmed by the number of guests or mounds of food present at the reception.
2. Make sure your pet isn't allergic to anything
Dressing up your pet for your big day is sure to be fun. But, before you do so, make sure the outfit or decorative wreath you have planned for Fido won't give them an allergic reaction.
Image source: Shutterfly
3. Tell your guests that your pet will be making an appearance
Aside from eliminating anything that might make your pet freak out, make sure you tell your guests that animals will be present at the wedding — to avoid any allergic reactions.
4. Practice makes perfect
Whether it is walking down the aisle or sitting obediently by the altar, make sure your pet practices for their big appearance! The last thing you want is your dog refusing to walk down the aisle or for your cat to climb all over your guests during the ceremony. Make sure you have treats at hand to help control the situation.
Image source: Laula & Co on Unsplash
Whether you do or don't decide to include your pet in your wedding; it pays to plan ahead.
Finding a pet sitter means you can rest assured your furry friend is taken care of during your wedding.  Plus, hiring someone to take your pet home after the ceremony ensures your pet gets to rest and doesn't cause mayhem when the post-ceremony party kicks off!
Source of lead image: DIY Weddings Mag
The following two tabs change content below.
Leanne Philpott
Leanne is a freelance writer at contentchameleon.com.au. She works alongside her fur pal Chewie (a border terrier) and is passionate about promoting responsible pet ownership.
Latest posts by Leanne Philpott (see all)