If you intend to go on a vacay with your furry friend it pays to clue up on some pet travel safety advice before setting out on your journey with your beloved pet. This will help ensure you prepare for every eventuality and get your holiday off to a great start.
After all, the last thing you need on the five-hour car journey is the smell of your dog's steaming poop in the back seat and the joy of knowing that instead of enjoying a cold beer or chilled glass of wine on arrival you'll be scraping poop off your car's upholstery!
Pet travel safety 101
Taking Rover on a road-trip? Good for you. However, before you embark on your trip, make sure your furry friend is up to a hefty car journey. Here are a few pet travel safety tips to help ensure you have a fantastic journey
Health check
You may need a trip to the vet to check your dog is healthy enough to travel — this is particularly the case for senior bark buddies. Alternatively, you may just need to check that your dog's worming and flea treatments are up to date and you've thought about tick prevention.
Certainly, if your dog is taking medication you'll want to make sure you're fully stocked and have a big enough supply to last your entire holiday.
Image source: Andrew Pons on Unsplash
Test trip
If your dog's not used to travelling in the car, schedule in a few car rides before you set off on your big journey. Allow your dog to roam free in the car while it's parked in the driveway with the engine off. This will help your canine comrade get used to their new environment.
ID sorted
Before you travel, check your dog's ID tag (if he or she has one and if not, now is probably a good time to get one). Make sure your contact details are clear and, most importantly, up-to-date.
Undoubtedly, losing Fido would quickly turn your dream trip into a disaster. Indeed, if your pooch isn't microchipped, you might want to think about getting this done. Plus, be sure to pop pooch on a national register, as opposed to a state-based one. Just in case!
Food and water
Food and water is essential when it comes to pet travel safety. It's wise to feed your dog a good few hours before you set off on your trip. After all, you never really know if your dog is going to get car sick.
Certainly, no one knows your dog like you do so think of ways in which you can make the trip as comfortable as possible. A vehicle restraint might be appropriate or perhaps simply taking your dog's favourite toy would be a good move.
Aside from offering your four-legged friend food and water prior to the trip, don't forget to take some with you. Oh, and your fur friend might also like a comfy bed to sleep on.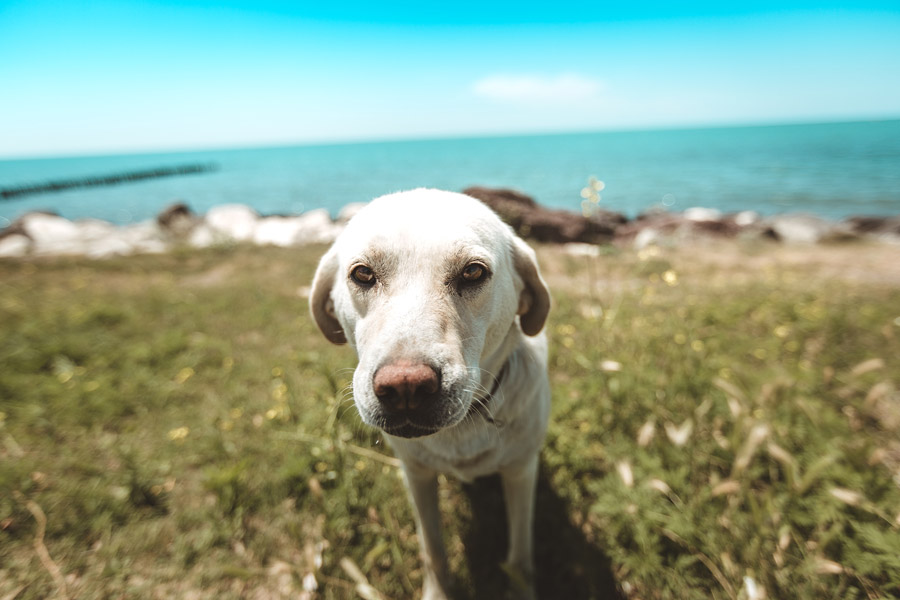 Image source: Mareks Steins on Unsplash
A sound schedule
When planning your holiday route schedule in toilet breaks and outside exercise time. This will make travelling more enjoyable for both you and your fur pal.
When at rest stops, be sure to keep your dog on a leash. Even the most gentle-natured dogs can be unpredictable in new environments and even more so if they're not used to car travel.
If you stop to grab a coffee or a bite to eat, park in the shade, leave the car windows open an inch and make sure your dog has some water to drink. Don't leave your dog unattended for more than five minutes. Remember, hot cars can be fatal.
Canine kit bag
You wouldn't head off on holidays without a few travel essentials and neither should your dog. Here are a few ideas on what to pack when travelling with your pet.
Bedding
Favourite toy
Water bowl
Food, bottle of water, treats
Medication, if required
Grooming items and towel
Collar and lead
Trowel or 'pooper scooper' and plastic bags to clean up doggy do do.
If you have any pet travel safety tips or stories we'd love to hear them.
In the meantime, happy travels!
The following two tabs change content below.
Leanne Philpott
Leanne is a freelance writer at contentchameleon.com.au. She works alongside her fur pal Chewie (a border terrier) and is passionate about promoting responsible pet ownership.
Latest posts by Leanne Philpott (see all)