Throughout April 2020, pet owners can rest assured they can easily discuss the health of their fur baby without leaving home — all thanks to Vetchat.
Need vet advice for your pet but can't or don't want to leave home? Vetchat, a joint partnership between our pet-loving friends at PetSure and Woolworths, is offering pet parents two free online veterinary consults during April.
The lowdown on Vetchat
Luckily for you, Pet Secure is one of PetSure's 30+ brands, which means all of our policyholders have access to this awesome offer.
Certainly, we all understand the importance of self-isolation and social distancing in current times. However, as loving pet parents we also want to know that, in the event of an accident or health emergency, our fur babies will receive the medical attention they deserve.
In an effort to make certain that all Aussie pets get the care they need and to relieve the financial stress for pet owners, PetSure and Woolworths are covering the costs of two free vet consults per policyholder.
This means any customer of a PetSure brand (Pet Secure is one of them!) can contact Vetchat for two free consults throughout April.
Vetchat can be accessed online any time between 6am and midnight (Eastern Standard Time). Through Vetchat's online chat or video call you can talk to an experienced Australian vet in real-time.
PetSure CEO Alexandra Thomas says, "We hope these free professional consultations will make a big difference, especially when people are already stressed about money and wellbeing. At any time, they are a crucial service made more accessible – whether they give a pet parent peace of mind on an everyday pet health concern or guidance on the next steps in an urgent or emergency situation.
"Better access to veterinary advice means calmer, better-informed pet parents and better pet health outcomes."
Expert vet advice from home
Ms Thomas continues, "With an increasing number of Australians in isolation or work-from-home situations, it could be challenging for many of us to have a face-to-face interaction with a veterinarian at a vet surgery, even in a situation where the pet owner is concerned about something they are observing with their pet.
"Vets may also be finding it challenging to work from their usual premises and consult through traditional face-to-face approaches. It is in both of these scenarios that Vetchat can make a significant contribution – connecting Australian pet parents with vets who can do their best work by providing optimal animal welfare outcomes remotely for Australian pets, and connecting vets with a way to continue to practice."
She explains that Vetchat helps enable vets to work from home and with flexible hours, an option that may be a lifeline in the coming months.
Vetchat CEO Dr. Claire Jenkins adds, "Vetchat is delighted to be able to reach more Australians and support them in their pet care with the investment from PetSure and the free consults initiative from PetSure and Woolworths.
"We look forward to speaking to lots of pet carers about their animals and helping them keep their furry family members happy and healthy in the months and years to come. We want to build a world where pets and carers can access vets anywhere, anytime and this is a huge step towards that."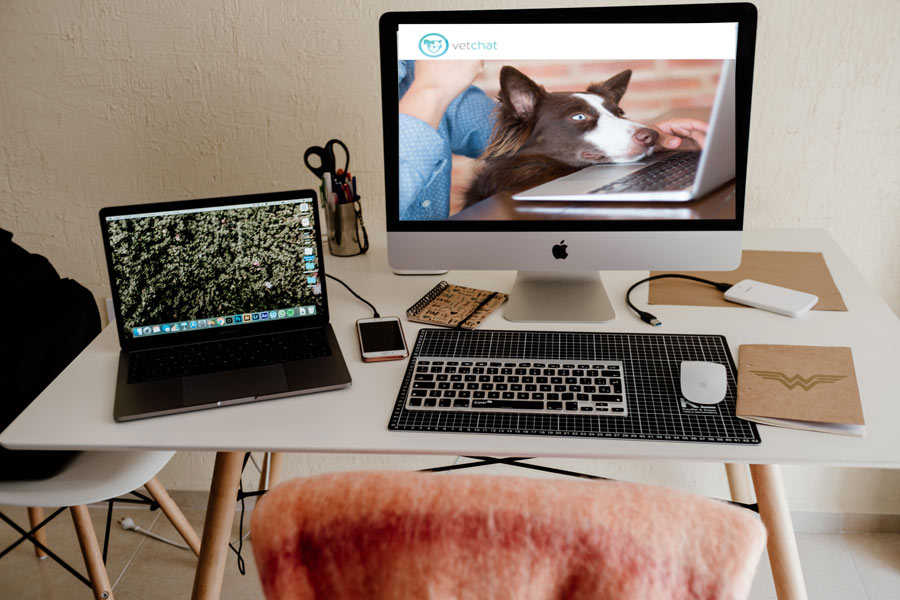 Vet help for your fur pal
If you would like a free consultation with a nationally registered vet via online chat or video, simply grab your Pet Secure policy number and visit petsure.vetchat.com.au.
No appointment is necessary, which means you can talk to a vet about your pet's health within minutes. All it takes is a few simple steps.
1. Visit petsure.vetchat.com.au with your policy number handy.
2. Click the 'Chat to a vet now' button.
3. Enter your policy number and click search to pull up your policy details.
4. Enter a brief overview of your pet's concern, along with your contact details and whether you'd prefer a text (i.e. web chat) or video consult.
Once you've read and accepted the terms and conditions you can connect to a vet.
TIP: If you have multiple policies or different policies with different PetSure brand partners, you can access two free vet consults per policy during April. You will just need the different policy numbers.
Vetchat is a fantastic service, however, it's particularly relevant in these times of uncertainty and self-isolation. Knowing you can access the expertise of a vet, should you be concerned about your pet's health, certainly gives us pet parents peace of mind.
---
Related posts
How-to: dog walking while social distancing
Healthy pets mean lower vet bills!
Embarrassing pet health problems
The following two tabs change content below.
Leanne Philpott
Leanne is a freelance writer at contentchameleon.com.au. She works alongside her fur pal Chewie (a border terrier) and is passionate about promoting responsible pet ownership.
Latest posts by Leanne Philpott (see all)